---
Gila Rut Aveda's Featured Manager

Feb 25, 2015
Meet Michael – Manager at Gila Rut
How long have you been working for Gila Rut?
In March, I will be celebrating 8 amazing years with Gila Rut! I met the owner, Keri, when I moved here in 2000. Seven years later, I phoned her and said I was coming to work for her company. I knew it would be a perfect match.
What do you love most about working in a salon?
What's not to love? I adore the culture of our company, from the teamwork and family atmosphere, to helping the guests everyday. I get to work with so many different team members, and it's always fun to step away from my management role and provide makeup artistry for the guests. I think that the opportunity and balance between business and creativity is my favorite part about working for Gila Rut. I have had the pleasure to work … Read More
Gila Rut Aveda's Featured Stylist

Feb 13, 2015
Meet Kim – Colorist at Otay Ranch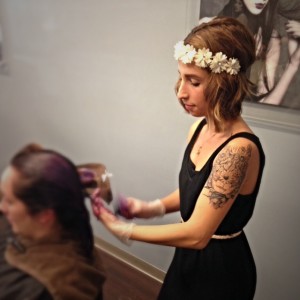 How long have you been working for Gila Rut?
In March, it will be two years that I have been working for Gila Rut.
What inspires you as a stylist?
I'm most inspired by my clients. That fact that I can make someone feel beautiful and confident is what keeps me going. Knowing that I have the power to turn their day around, to me, is awesome.
What is your favorite trend in the hair world right now?
My favorite trend  is Balayage highlights. I love that it is an option for people to brighten up their color and add dimension without the maintenance.
What is your favorite Aveda product and how would you use it on clients?
Right now I love the Smooth Infusion's Naturally Straight. Its a great product for those clients who love to wear the hair straight often. You … Read More