Meet Kim – Colorist at Otay Ranch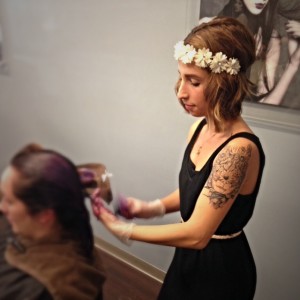 How long have you been working for Gila Rut?
In March, it will be two years that I have been working for Gila Rut.
What inspires you as a stylist?
I'm most inspired by my clients. That fact that I can make someone feel beautiful and confident is what keeps me going. Knowing that I have the power to turn their day around, to me, is awesome.
What is your favorite trend in the hair world right now?
My favorite trend  is Balayage highlights. I love that it is an option for people to brighten up their color and add dimension without the maintenance.
What is your favorite Aveda product and how would you use it on clients?
Right now I love the Smooth Infusion's Naturally Straight. Its a great product for those clients who love to wear the hair straight often. You can either let your hair air dry or blow-dry with it, and it helps reduce frizz. The more you use it, the smoother you hair gets. s I love it!
What do you enjoy doing outside of working at the salon?
I love spending time with my family and friends. Also, I love snuggling up with my two dogs in front of the tv on my lazy Sundays. I also love doing pilates in the morning. It really helps wake me up and gets me prepared for my day.
What is your favorite service to do in the salon?
I love doing balayage highlights. There are so many different ways to do it and its always fun adding fashion colors into the mix. Its a technique that allows me to be creative and customize a look just for my client.
To book an appointment with Kim please call