Fashion week is huge in the beauty industry. Thankfully, we don't need to catch the red eye to NYC to find the upcoming trending styles or hottest emerging designers—we just need to catch an Uber to Broadway Pier. If you missed this year's show, don't sweat. We caught up with our two lead designers—Janette Cruz and Michael Soberanes—to give us a front row seat to all things fashion week. Read the Q&A below.
Tell us about the shows!

Janette: The shows for this season were beautiful! There was so much color and texture in the clothing and it went with the hair inspiration perfect. For Friday's show, I really wanted to create something soft but clean, so I went with a middle part and low pony with added texture around the face. I also wanted to add color so I incorporated flowers. My goal for the look was to make sure it was versatile yet effortless to go with multiple styles of clothing.
Michael: I was creating cool-girl waves with a sewn-in headband. I was aiming for a unique texture—something that wasn't curls but included a couture-accessory. We were leading a team of about 40 stylists. We had about three hours to prep 100 models!
A model walks the runway at Fashion Week San Diego.
Source: Michael Soberanes Photography
Wow! What was that like?
Michael: We had a good handle on it at the beginning but of course chaos ensued near the end.

Janette: Crunch time happened about 30 to 40 minutes before the models hit the runway while we were adding the flowers. Remembering that feeling of panic while looking for models heads without flowers in them still makes me chuckle!
A model with flowers serving as her accessory.
Source: Michael Soberanes Photography
I bet! But you guys pulled it off! What would you say was your biggest inspirational moment?
Janette: Definitely seeing all the models lined up about to walk and thinking: 'This image I'm looking at right here is what I have been working for.' It was very cool. Also knowing that I was able to lead a team of very talented stylists to achieve this was mind blowing.
Michael: Seeing the energy after the show and watching people's happiness linger throughout the night was amazing. I can't wait to recreate that feeling and vibe with my guests in the salon.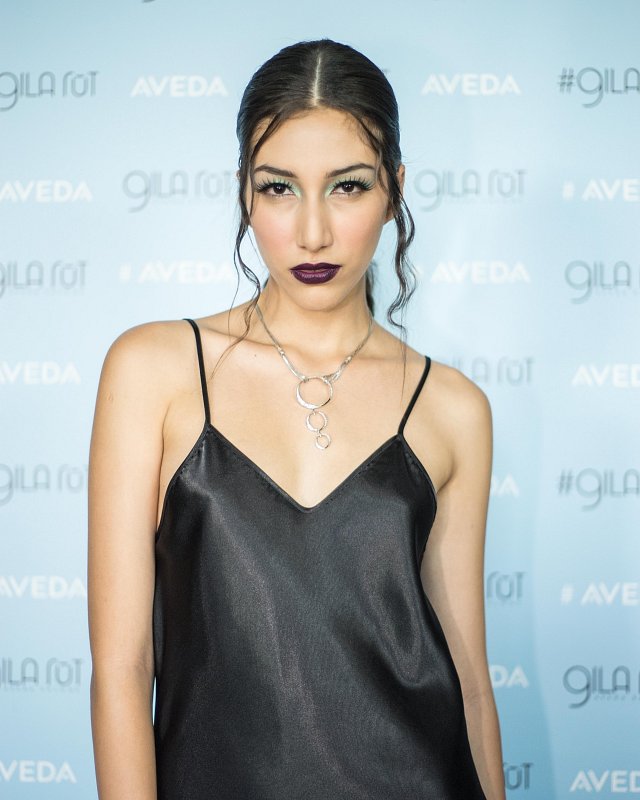 Middle parts were a huge part of our look. They're trending!
Source: Michael Soberanes Photography
Last question—we have to know! What are the upcoming trends?
Janette: The upcoming trends are some of my favorites! One trend we're seeing is using natural hair texture to your advantage. Be sure to use Aveda's Texture Tonic to create that natural texture on damp or dry hair. The other is braids. They're still huge! Of course you can never go wrong with a low pony and some Air Control to slay those fly-aways. Don't forget the middle part and a bold red lip to complete your look!

Michael: I'm seeing a lot of loose, casual and undone styles. To recreate at home, keep it simple, go with the flow and don't be afraid to mess it up!
Our team behind-the-scenes, so happy we pulled it off!
Thanks so much for chatting with us, Michael and Janette! We couldn't be more proud of you both and the entire team for making another Fashion Week one for the books! If you're looking for more inspiration—visit us in the salon.